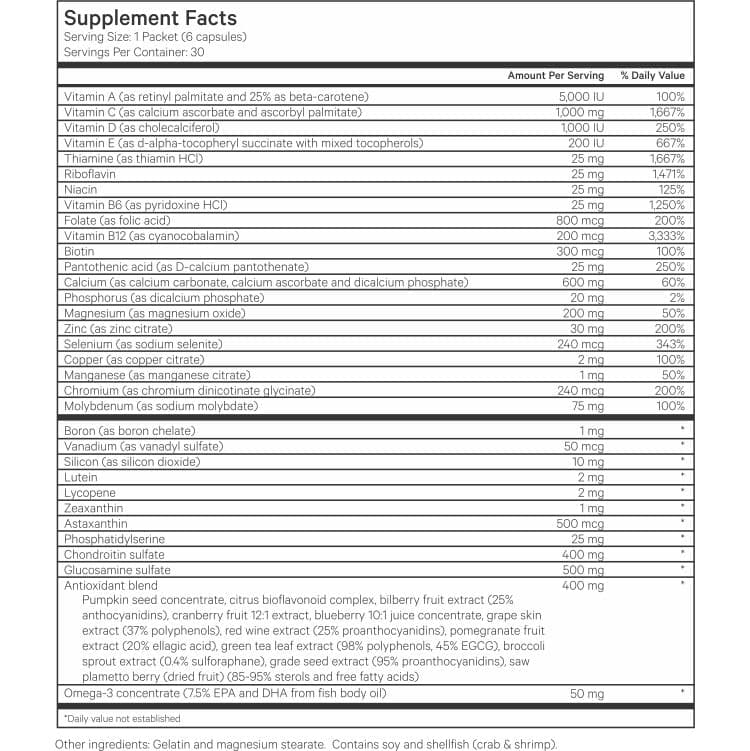 Essential Multivitamin (30-Day Supply)
What is the Essential Multivitamin?
DR-HO'S® Essential Multivitamin is our most preeminent multivitamin formula, providing essential nutrients to help meet the demands of today's hectic lifestyle. Formulated for both men and women, this dietary supplement delivers more than 40 nutrients, including high concentrations of all essential vitamin supplements and minerals, plus a comprehensive blend of potent antioxidants.
How Does the Essential Multivitamin Work?
Delivers more than 40 essential nutrients
Supports body systems like joints, bones and vision
Easy-to-swallow capsules that are gentle on the stomach
Contains high concentrations of B-complex vitamins
Contains an exclusive blend of antioxidants
Contains glucosamine to aid in joint health
Directions for Use
Load up on more than 40 essential nutrients! Here's some more information how to get the most out the Essential Multivitamin.
Your 30-Day bottle of Multivitamins contains packets that each contain 6 capsules.
Take the contents of one packet over the course of a day, with food.
Since this product is non-acidic and pH balanced, you can feel comfortable taking all six capsules at one time with a complete meal. Alternatively, you can take two capsules three times a day with each meal.
If you are taking other medication, take DR-HO'S® Essential Multivitamin a few hours before or after consumption.
Treatable Conditions
DR-HO'S® Essential Multivitamin is an excellent way to kick start your day as well as help:
DR-HO'S® Essential Multivitamin is an excellent way to kick start your day as well as help:
Support the immune system
Support eyes and vision
Maintain muscle tone in the stomach and intestine
Absorb calcium for healthy bones
Promote bone and joint health
Maintain proper cartilage function
Provide essential vitamins missing from diet
Provide energy for the day
VITAMINS, MINERALS AND ANTIOXIDANTS FOR THE MAINTENANCE OF GOOD HEALTH


ldeal for all adults, genders and lifestyles.
Essential for a healthy foundation.
1,000 IU Vitamin D3 daily.
Enhanced with omega-3 formula.
Optimal nutrient potency levels.
Remarkable antioxidant benefits.


30 Packets (6 Capsules Per Packet) Dietary Supplement


Directions:

Adults take 2 capsules with each meal (total 6 daily), or as directed by your health care practitioner.
This product contains NO yeast, wheat, gluten, milk/dairy, sodium, starch, artificial coloring, preservatives or flavoring. As with all dietary supplements, please consult your physician or health care provider prior to using this product if you are taking a prescription medication or have a chronic disease. Not intended for children and pregnant or nursing women.
Store at 15-30°C (59-86°F).

Protect from heat, light and moisture.

Do not purchase if seal is broken.
DISTRIBUTED BY
VGH Solutions Inc., 145 Anderson Avenue, Markham, Ontario, L6E 1A4, Canada
1-877-374-6669 • www.DrHoNow.com • drho@drhonow.com
These statements have not been evaluated by the Food and Drug Administration.
This product is not intended to diagnose, treat, cure or prevent any disease.


Each capsule contains:


Vitamin A (as retinyl palmitate and 25% as beta-carotene)
Vitamin C (as calcium ascorbate and ascorbyl palmitate)
Vitamin D (as cholecalciferol)
Vitamin E (as d-alpha-tocopheryl succinate with mixed tocopherols)
Thiamine (as thiamin HCI)
Riboflavin
Niacin
Vitamin B6 (as pyridoxine HCI)
Folate (as folic acid)
Vitamin B12 (as cyanocobalamin)
Biotin
Pantothenic acid (as D-calcium pantothenate)
Calcium (as calcium carbonate, calcium ascorbate and dicalcium hos hate)
Phosphorus (as dicalcium hos hate)
Magnesium (as magnesium oxide)
Zinc (as zinc citrate) 30 ma 200%
Selenium (as sodium selenite) 240 mca 343%
Copper (as copper citrate) 2ma 100%
Manganese Cas managanese citrate) 1 ma 50%
Chromium (as chromium dinicotinate glycinate) 240 mcg 200%
Molybdenum (as sodium molybdate)
Boron (as boron chelate)
Vanadium (as vanadyl sulfate)
Silicon (as silicon dioxide)
Lutein
Lycopene
Zeaxanthin
Astaxanthin
Phosphatidylserine
Chondroitin sulfate
Glucosamine sulfate
Antioxidant blend
Pumpkin seed concentrate, citrus bioflavonoid complex, bilberry fruit extract (25% anthocyanidins), cranberry fruit 12:1 extract, blueberry 10:1 juice concentrate, grape skin extract (37% polyphenols), red wine extract (25% proanthocyanidins), pomegranate fruit extract (20% ellagic acid), green tea leaf extract (98% polyphenols, 45% EGCG), broccoli sprout extract (0.4% sulforaphane), grade seed extract (95% proanthocyanidins), saw palmetto berry (dried fruit) (85-95% sterols and free fatty acids), Omega-3 concentrate (7.5% EPA and DHA from fish body oil)

*Daily value not established
Read more
90-Day Money Back Guarantee
Drug-free, non-invasive pain relief
35 years experience helping patients
90-Day Money Back Guarantee
Drug-free, non-invasive pain relief
35 years experience helping patients
Shipping

We offer free shipping on all orders over $100. Our shipping rates for orders less than $100 range from $2.99 - $9.99 depending on the size of the item and we also provide 25% off the shipping rate when you add more than one item. You can read more about our shipping policies here.

Returns

We provide you with a 90-day satisfaction guarantee. Before you return any items to us please consult with our customer care team to see if they can help you get the best results with our products. If you still decide to return then we will provide you with a full refund less shipping & handling. You can read more about returns here.
Essential Multivitamin (30-Day Supply)
Subscribe to Our Newsletter
Unlock FREE access to valuable pain relief tips, exclusive offers, health videos, downloadable e-books, exciting promotions and more!